Online Banking
Log in
Close Online Banking Login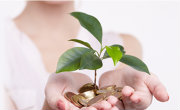 Personal Investment Planning
Get comfortable with your investment plan.
Personal investing truly is personal. It's all about what makes you comfortable. Maybe you're okay with a little risk. Or a lot. Or perhaps you just want to protect what you've worked so hard to earn.
Wherever you stand, Standing Stone Financial Services starts with understanding your feelings about investing as well as your financial goals. We help you evaluate your options and learn how you can make your money work for you. And we recommend solutions that can achieve your objectives while maintaining your comfort level.
Talk to Debbie about:
Maximizing your return on investment

Evaluating your current investments to make sure they still fit your needs

Controlling or minimizing your investment risk

Saving for your future or a major purchase

Taking advantage of investment-related tax benefits

A customized plan to accumulate personal wealth

Investing in long-term care or life insurance

Estate planning
Call 740-653-5115 to schedule an appointment, or send Debbie a message.