Online Banking
Log in
Close Online Banking Login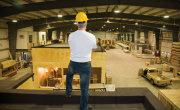 Commercial Real Estate Loans
Whether you're looking to expand your business or invest in new property, our lending experts can assist you with securing the funds you need for purchase, refinance, or construction.
We have a strong working knowledge of the local real estate market, and will work to establish terms customized to your business needs. Take advantage of our competitive rates, and apply today.
Contact Bobbie Walker or Galen Kelch for more information.
Benefits

Purchase land or buildings affordably
Available for owner-occupied or investment properties
Free up capital for other essential business purchases
Enjoy competitive rates
Repayment terms customized to your business needs
Lending professionals with working knowledge of the local real estate market
Assistance with property valuation and document preparation
Secured installment loans and lines of credit also available
Decisions made locally
Detailed, professional service from start to finish