Online Banking
Log in
Close Online Banking Login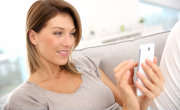 Mobile Banking
It sure is easy to do your banking these days! We make it as easy as possible with our free mobile banking service — receive up-to-date account information, pay bills, and more, no matter where you are.
This convenient service is available to all of our customers who use online banking. With this fast and secure service, your accounts are as close as your smartphone. Our text banking feature gives you even more account management flexibility. So give mobile banking a try!
Benefits

Your accounts are as close as your smartphone!
Free, on-the-go banking for any mobile device:
View your up-to-date balance
Transfer funds between accounts
Pay bills
Available to all of our online banking customers
Use your online banking credentials to log into mobile banking
Fast, secure, and easy to use

Text Banking

Your account information is just a text message away! Even if you don't have a smartphone, you can access your account with any mobile device that can send and receive text messages.

Free service*
View your balance and account activity
Set up text alerts

Have the account information you need, when and where you need it!

Please contact us to enroll in text banking.

*Message and data rates from your carrier may apply.